NGC 6872, Outer Space
Joined on January 26, 2014
Releases
Releases Rated 93
Rating Average 3.75
Marketplace
No seller rating
Buyer rating:
100.0% 22
Contributor Stats
Rank Points 38,155
Average Vote 3.91
Votes Received 420
Last 10 Day Average 4.00
Last 10 Day Votes Received 1
Groups
I mostly add digital releases 'cause I don't have time to scan the physical ones.
Digital only does not mean it's not worth your time. Obscure or unheard don't mean that either.
Confort zone somewhere between Prog Breaks and Prog Trance, but I do my best to expand my horizons.
Views since 9/2021: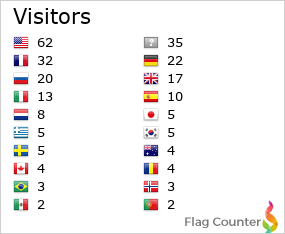 Recent Activity

submitted Alanas Chosnau*, Mark Reeder - Children Of Nature.

4 months ago

submitted Ampish - Abstract EP.

4 months ago

submitted ?ro - Santeria / Ganymede.

4 months ago

submitted THe WHite SHadow (4) - In My Head.

4 months ago

submitted Haze-M, Gabe (5), Saccao - Grave EP.

4 months ago

submitted Minotor - Nightshift EP.

4 months ago

submitted Ramiro Puente & DJ Klang - One Two.

4 months ago

submitted Los Suruba - Thunderfuck.

4 months ago

submitted THe WHite SHadow (4) - Black / White / Travel.

4 months ago

submitted Speaking In Tongues (2) - Shadows.

4 months ago

submitted RedDub & Sam Farsio - Timeless Meadow.

4 months ago

submitted Ilan Kriger - The Body EP.

4 months ago

submitted Gorkiz - Hope EP.

4 months ago

submitted Double:think - Last Word.

4 months ago

submitted Double:think - Hot Drama.

4 months ago

submitted Saccao, Anton Ishutin, CASSIMM - Big Fat Mom.

4 months ago

submitted Various - Fresh Mint.

4 months ago

submitted Pete Oak, Ashibah & Notize - Picture Perfect.

4 months ago

submitted Nature Sun - Cosmic Trip EP.

4 months ago

submitted Solaire (4) - Hidden Pleasures.

4 months ago

submitted Rafael Cerato - Fonky.

4 months ago

submitted Phunktastike - What Happened To My Music.

4 months ago

submitted Chus Jodar Aka JJ Fox - Tinnitus.

4 months ago

submitted Jose Maria Ramon, William Medagli & Thallulah - Sweet Harmony.

4 months ago

submitted Kolombo & Zakari (2) - Plug.

4 months ago

submitted RedDub & Sam Farsio - Zamin O Zaman EP.

4 months ago

submitted Nolan (5) Feat. Amber Jolene - Daybreak / Behind The Mask.

4 months ago

submitted Alexandre Allegretti & Riccii - The Remixes EP.

4 months ago

submitted Alexandre Allegretti & Riccii - Survival - The Remixes EP.

4 months ago

submitted Alexandre Allegretti, Riccii, Ellie Ka - Darkness And Fireflies EP.

4 months ago

submitted J.Quest, Tokita (2) - Tell Me EP.

4 months ago

submitted Various - Welcome To Miami Vol 2.

4 months ago

submitted Alexandre Allegretti & Riccii - Survival EP.

4 months ago

submitted Solaire (4) - One EP.

4 months ago

submitted Various - Two Year Anniversary VA.

4 months ago

submitted Riccii - Hidden Keys.

4 months ago

submitted Arno (FR)* - Upheaval.

4 months ago

submitted Various - Arquétipo I.

4 months ago

submitted Various - Rio Music Conference - Part 2.

4 months ago

submitted Various - Fresh Drops Vol. 2.

4 months ago

submitted Rikfell Feat. Nicka Pesh - Hope.

4 months ago

submitted Rikfell - Mission To Saturn.

4 months ago

submitted Rikfell - Crystallize.

4 months ago

submitted Various - D-Edge 20 Years Volume 2.

4 months ago

submitted Angelo Fracalanza - Gravited.

4 months ago

submitted Angelo Fracalanza, Rikfell - Reality Grind.

4 months ago

submitted Rikfell - Spice.

4 months ago

submitted Various - Amsterdam Heroes 2018.

4 months ago

submitted Various - One Year Anniversary.

4 months ago

submitted Noble Spirits & Rikfell - Haunted.

4 months ago